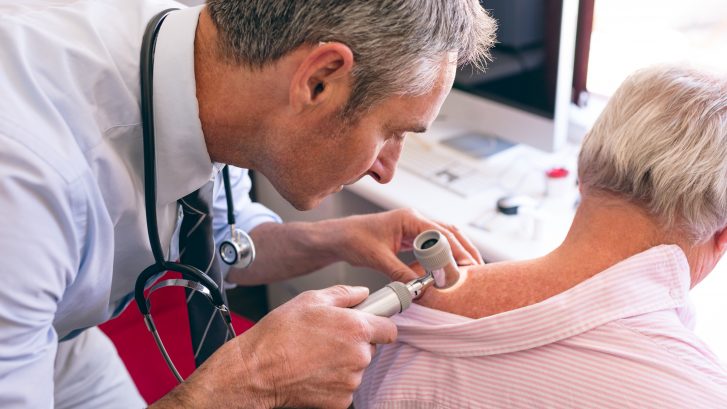 SRT is a safe, effective, and non-surgical way to target skin cancer and preserve surrounding tissue.
As we know, skin cancer is the most common form of cancer in the U.S. and when diagnosed and treated early, it is often curable. However, conventional skin cancer treatments can leave patients with noticeable scarring
If you are concerned about scarring following skin cancer removal, continue reading to learn all about treating skin cancer with SRT in Maryland.
What is SRT?
SRT, also known as superficial radiation therapy, is a non-surgical procedure designed to treat skin cancer and minimize scarring. It delivers radiation via x-rays and only penetrates the surface of the skin, without harming deep tissue.
It is an excellent option for patients with basal cell carcinoma, squamous cell carcinoma, or Kaposi's sarcoma who wish to avoid damage and scarring, especially on sensitive areas like the face.
SRT in Maryland – Exclusive to Mid-Atlantic Skin and Dr. George Verghese
Mid-Atlantic Skin strives to provide our patients with the best and latest technology available for skin cancer treatment. We are pleased to be the premiere and only practice in Maryland to offer superficial radiation therapy.
Board-certified dermatologist Dr. George Verghese is a leader in the field of minimally-invasive skin cancer treatment and uniquely qualified to perform SRT in Maryland. He is also a fellow of the American College of Mohs Surgery and the American Academy of Dermatology.
What Are the Benefits of Superficial Radiation Therapy?
Skin cancer treatment with SRT in Maryland is a non-surgical, outpatient procedure that delivers therapeutic as well as cosmetic benefits. The process is performed in the comfort of our office, with patients in a reclined, seated, or standing position, and takes a matter of minutes.
Most women and men describe the procedure as painless and feel nothing more than a warm sensation in the targeted area.
Post-treatment, patients are free to go about their day as they normally would. Multiple sessions may be recommended to achieve optimal outcomes.
Interested in Treating Skin Cancer with SRT?
If you are considering treating skin cancer with SRT in Maryland, please contact Mid-Atlantic skin to schedule a consultation with board-certified dermatologist Dr. George Verghese – the only physician in Maryland qualified to perform SRT.