Restylane in Waldorf
Mid-Atlantic Skin offers Restylane® in Waldorf, MD with our highly trained medical professionals.
With over 28 million treatments worldwide and counting, the Restylane line of hyaluronic acid fillers is used to smooth away wrinkles and fine lines (Restylane & Restylane Lyft), create fuller and more accentuated lips (Restylane Silk), and add lift and volume to the cheeks (Restylane Lyft).
All Restylane products work to enhance facial features and give long-lasting, yet non-permanent results.
Natural Aging Affects the Whole Face
As we age, different parts of the face lose shapre and fullness–leading to lines, wrinkles and a less youthful appearance.
In many case, this is because our bodies aren't producing as much hyaluronic acid (HA) as they used to.
HA attracts moisture, and less of it means that our features begin to sag and droop.

Where We See Wrinkles (And More)
Cheeks – Loss of collagen, thinning of underlying fat, and decreasing bone volume can lead to a reduction of volume in the cheeks, giving a sunken appearance.
Nasolabial Folds (Smile Lines) – Through volume loss and aging over time, the skin of our cheeks may drape over to become nasolabial folds (smile lines), creating a tired looking face with wrinkles between the nose and mouth.
Lips – As we age, our lips may lose shape and there can be an increase in small vertical lines around the mouth, while the corners sag.
Restylane Offers An Authentic Look
Designed to act like the body's own naturally produced hyaluronic acid, the Restylane line of products visibly reduces facial wrinkles and folds and adds smooth, silky definition to lips.
Widely used for over two decades, Restylane has helped people all over the world achieve a natural look they love.
Adding volume and fullness to the skin, it corrects moderate to severe facial wrinkles and folds, such as the lines from your nose to the corners of our mouth.
Restylane offers long-lasting results in nasolabial folds for over 18 months–working to provide a smooth, natural-looking apperance that ogten begs the question: "Have you been on vacation?"
According to Galderma, 95 percent of patients still saw improvement one year after treatment with Restylane.
---
Restylane Lyft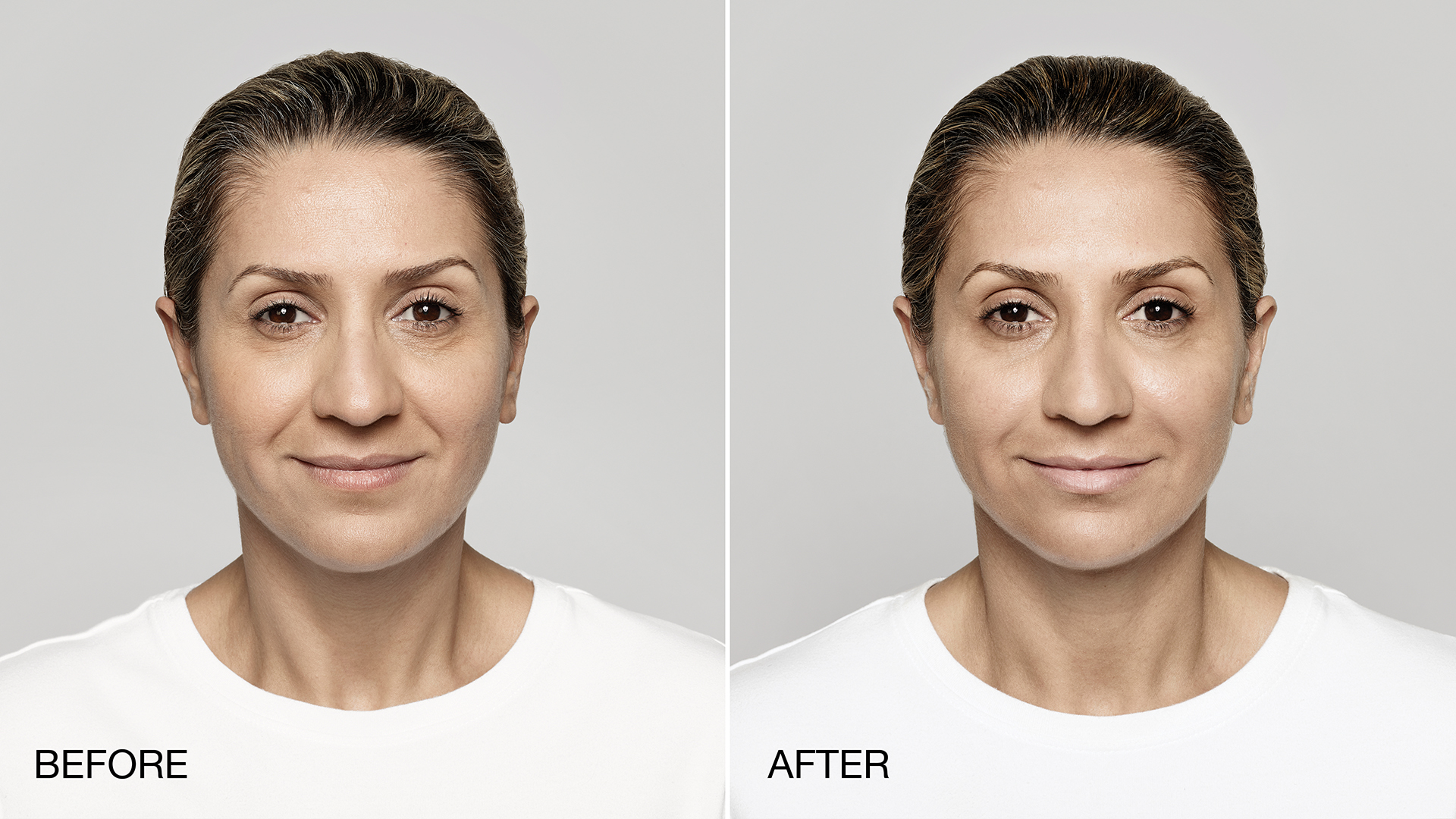 Restylane Lyft is approved by the FDA for cheek augmentation and the correction of age-related midface contour deficiencies in patients over the age of 21.
This is in addition to treating moderate to severe facial wrinkles and folds, such as nasolabial folds (smile lines).
A Natural Looking Lift
You may be noticing some obvious signs of aging that you hadn't previously seen before.
What were once subtle lines and wrinkles around the nose and mouth have started to deepen over time. Cheeks that used to appear full and taut suddenly seem to sag and droop.
Over time, the natural fat that surrounds the cheeks begins to deteriorate, resulting in sagging skin, more prominent wrinkles and a reduction of volume. Restylane Lyft, formerly known as Perlane-L, is an injectable hyaluronic acid gel used to correct volume loss and treat wrinkles in the face.
Restylane Lyft is the first and only FDA-approved filler with the versatility of treating both cheeks and nasolabial folds.
According to Galderma, 72 percent of patients treated with Restylane Lyft felt their cheeks looked smooth and attractive 12 months after treatment.
---
Restylane Silk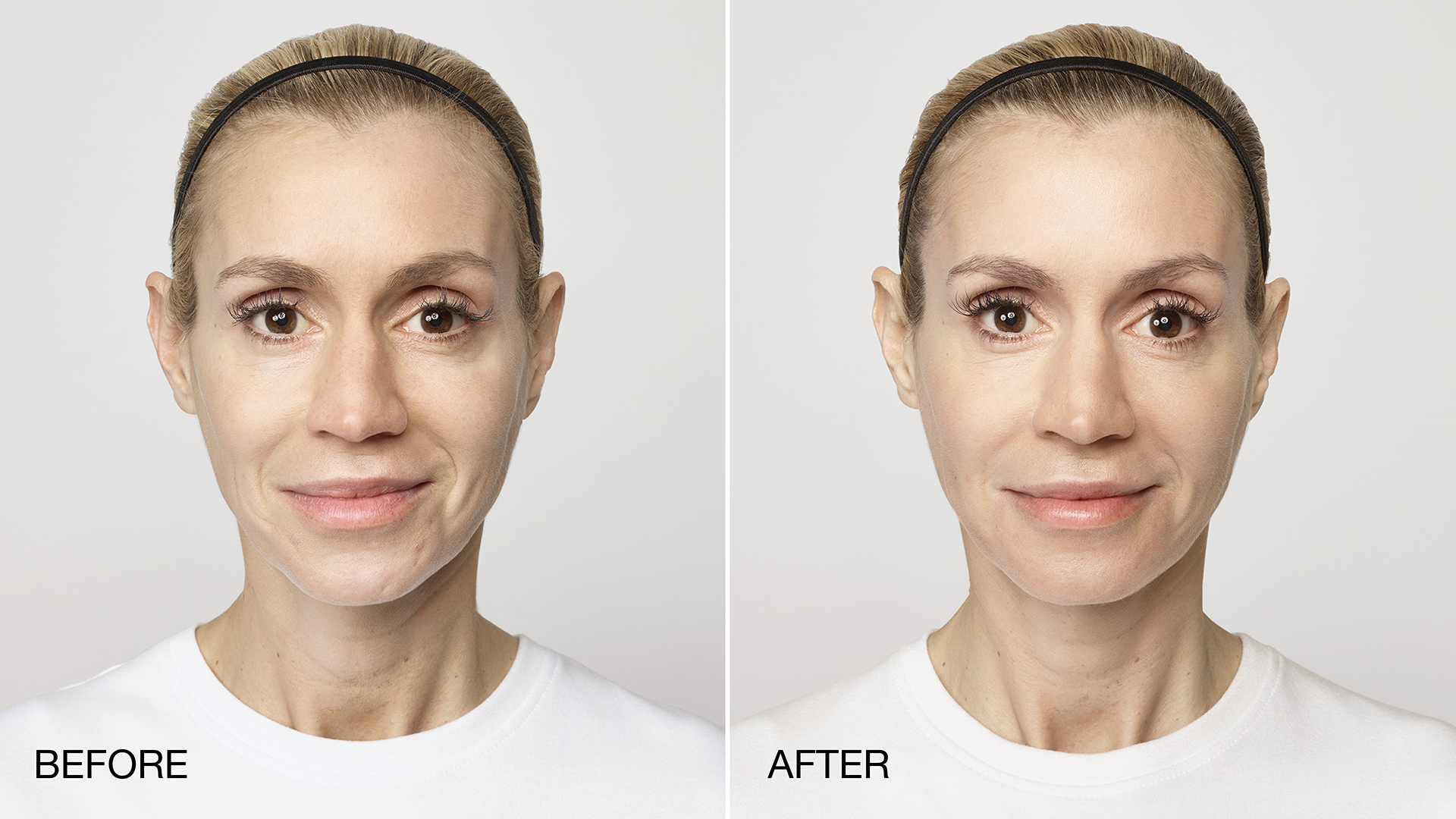 Finally, a filler that can help you achieve your ideal lips.
Restylane Silk is the first FDA-approved product specifically designed for lip augmentation and the smoothing of wrinkles around the mouth in patients 21 years of age and older.
Many people who are comfortable treating other areas of their face are concerned that their lips won't look natural if treated.
That's why there's Restylane Silk, with its refined smooth gel formulation that allows for subtle, natural-looking results.
Restylane Silk is designed for meticulously precise lip definition and line control, giving you the smooth, silky lips you've been longing for.
And it's that first and only FDA-approved treatment to specifically address lips and the fine lines around them.
And like other members of its line, Restylane Silk is a long-lasting, satisfying treatment.
According to Galderma, half of patients kept seeing improvement 24 weeks after treatment.
Restylane Kysse
Does it feel like you looked in the mirror one day and noticed thinning lips? Losing volume in your lips is one of the first signs of aging.
There isn't a single over-the-counter product that provides real, lasting results. Thankfully, Restylane Kysse is here to plump your pout!
Why Choose Restylane Kysse?
Restylane Kysse is the most recent development in FDA-approved lip fillers. Its base is hyaluronic acid (HA), and it's formulated with cutting-edge XpresHAn technology for the smoothest, most natural looking results ever seen with filler.
The XpresHAn Formula provides natural expressions and was specifically designed to flow with the movement of lips while lasting longer than other fillers.
What Does Restylane Kysse Feel Like?
Lip filler with Resylane Kysee is non-invasive and non-surgical. So, there is no downtime after injections, and you can return to most of your usual activities after treatment.
You might experience redness and tenderness at the injection sites, but these side effects disappear quickly without further treatment.
When Will I See Restylane Kysse Results?
You see small results with Restylane Kysse immediately after injections, and full results within weeks of your treatment.
Results with Restylane Kysse last for almost a year before you need to return for more treatment. 
Am I A Good Candidate for Restylane Kysse?
Nearly anyone with a desire for plumper, juicier lips who is over the age of 21 is a good candidate for Restylane Kysse, as long as you have realistic expectations about treatment outcomes.
The only way to actually know if you're an ideal candidate is by scheduling a consultation and discussing your health history with your provider.
Where Is the Best Place to Go for Restylane Kysse in Virginia?
Get voluminous, natural-looking lips with Restylane Kysse at the Mid-Atlantic Skin Surgery Institute.
Contact us today at 301-396-3401 to book a better kiss with Kysse.
Our medical practice offers the latest dermal fillers, and injections only take minutes out of your day for a year's worth of the perfect pout.