What Is Cellulaze?
Mid-Atlantic Skin, located in Waldorf, MD, offers Cellulaze laser treatment. Cellulaze is the only treatment that attacks the very structure of cellulite, producing healthier looking skin.
Cellulaze treats the fibrous bands beneath the skin, while also thickening and adding elasticity to the skin to help reduce the appearance of cellulite.

What Is Cellulite?
Cellulite affects at least 90 percent of women over the age of 18 in the United States. Cellulite appears when the fat just below the skin begins to pucker between the vertical bands of fibrous tissue that contain it.
It's usually resistant to exercise and is found even in physically fit women who are at their ideal body weight.
Aging, hormones, genetics and dramatic weight changes can all play a role in the appearance of cellulite. These factors can cause connective tissue bands under the skin to stiffen and the fat cells they surround to become larger and push up into the skin.
And that creates the "cottage cheese" effect you wish you could eliminate, which is even easier to see if you have thin skin.
Cellulaze delivers results that last, and all it takes is a single anti-cellulite treatment.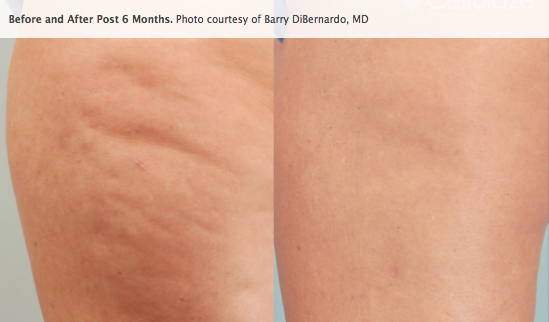 What Can You Expect with Cellulaze Treatments?
According to Cynosure, this is what you can expect during your procedure:
Your physician will mark the areas of cellulite to be treated with a marker
A couple of tiny incisions will be made, about the size of the tip of a pen
Local anesthesia or numbing solution is used (you'll be awake during the procedure)
The Cellulaze laser fiber is threaded through a very small tube (or cannula) and inserted through the incision site
How Does Cellulaze Work?
A cannula or small tube is inserted under the skin while Cynosure's unique SideLight laser fiber inside the tube delivers energy directly under the skin.
This increases the depth and quality of your skin, while simultaneously releasing the fibrous bands that pull it down–minimizing the orange peel look associated with cellulite.
Finally, the laser is used to diminish the lumpy pockets of fat that protrude through the fibrous bands under your skin.
Cellulaze is a unique treatment that will:
Disrupt trapped pockets of fat
Release fibrous bands that pull down on the skin
Stimulate collagen growth, for thicker, more elastic and healthier looking skin
How Long Do Cellulaze Results Last?
You'll see some improvement right away with optimal results apparent between 3-6 months. Since new collage is formed in the areas treated with Cellulaze and the structures under the skin are altered… results are lasting.
Clinical studies have shown results can last for one year or more.
Are you a Maryland patient interested in Cellulaze treatment? Contact us today to schedule an appointment.