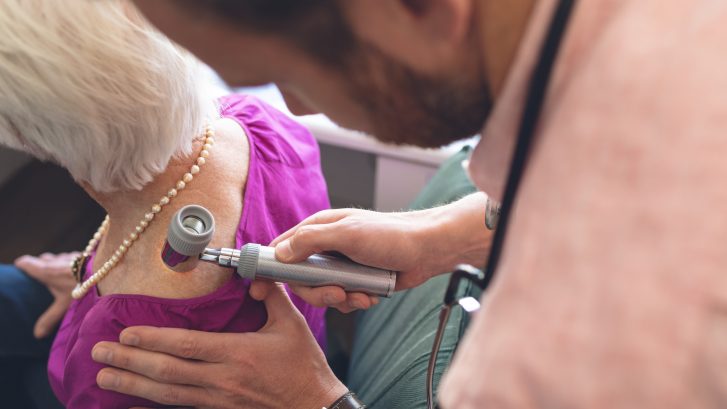 In the past, treatment for non-melanoma skin cancer was limited to surgery, which meant incisions, anesthesia, and possible scarring. More recently, evidence has shown SRT (Superficial Radiation Therapy) to be an extremely effective non-surgical alternative.
In fact, based on a 5-year study, SRT proves an almost 99% cure rate of non-melanoma skin cancer. Continue reading for study details and to learn if SRT in Maryland is right for you.
SRT – Non-Surgical Alternative for Treating Skin Cancer
Superficial radiation therapy, commonly referred to as SRT, is a non-surgical treatment for skin cancer that uses x-rays to selectively target malignancy, without damaging deep tissue. As a result, SRT avoids visible scarring, which is a concern for many patients.
SRT Proves an Almost 99% Cure Rate of Non-Melanoma Skin Cancer
According to results from a 5-year retrospective study, led by Sensus Healthcare, Inc., SRT can achieve a 98.9% cure rate for non-melanoma skin cancers, including squamous cell carcinoma and basal cell carcinoma.
The study included 516 male and female participants, with a mean age of 79, and was conducted across 4 sites in the U.S.
After treating 776 lesions with SRT, findings revealed a 1.1% recurrence rate of tumors at 2 and 5 years and a 98.9% cure rate.
What Do These Findings Suggest About the Future of Skin Cancer Treatment?
The results of this study demonstrate that SRT is a highly effective non-invasive treatment for skin cancer. It provides an alternative to surgery for patients with non-melanoma cancers and allows them to have a choice in their therapy.
With that being said, researchers assert that SRT should be readily available to patients, particularly those that are older and present with co-existing conditions.
Mid-Atlantic Skin is pleased to be the only practice in Maryland that currently offers SRT for the treatment of skin cancer.
Learn More About Treating Non-Melanoma Skin Cancer with SRT in Maryland
If you are considering treating skin cancer with SRT, please contact Mid-Atlantic Skin to schedule a consultation with board-certified dermatologist Dr. George Verghese – the only physician in Maryland qualified to perform SRT.