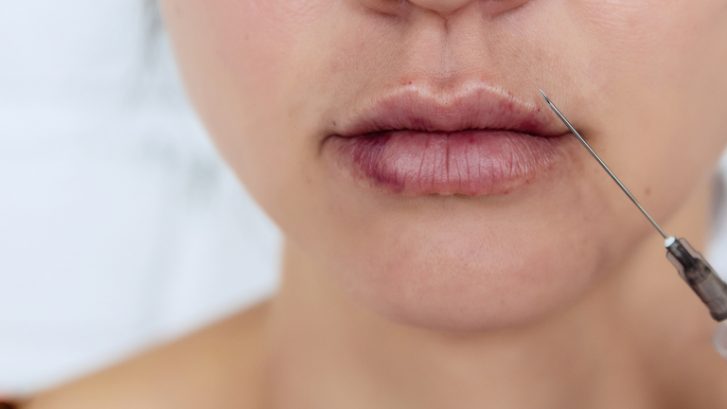 Have you noticed your lips thinning as you age? In addition to fine lines and wrinkles, we also lose facial volume, even in areas like lips, as we get older.
Lip filler can remedy this problem quickly, and it often only takes one syringe to get the perfect pucker. If you're considering lip filler injections such as Restylane, you're probably wondering about aftercare.
Questions such as, "How long does lip filler last," and "What should I expect after fillers," are frequently asked at dermal filler consultations. 
Rest assured, in addition to the information below, we will fully review the entire procedure with you. From how to prepare for lip filler to how to care for your lips after injection, we'll answer all of your questions and address your concerns.
How Long Does Lip Filler Swelling Last?
After dermal filler injections, you may notice some swelling, redness, bruising, and / or tenderness in the lips.
Typically, filler symptoms last about two weeks after treatment. About two days after lip filler injections, you'll likely start to notice the swelling is going down.
You can help minimize lip swelling after dermal fillers by the following:
Stay hydrated. Drink plenty of water after treatment.
Apply ice as needed. Be sure to use an ice pack or ice cube covered in cloth so the ice doesn't get stuck to your lips.
Avoid heat, as it causes swelling to increase.
Sleep face up with your head propped on pillows. The elevation will help minimize swelling. Be sure not to sleep on your face.
Avoid foods high in sodium. Salt can cause you to retain fluids and worsen swelling.
Here's What to Expect After Dermal FIllers for Lips!
It may take about two weeks to see final results, though you'll notice an immediate improvement after injections. Your results will last up to six months, or maybe even longer with proper care.
For answers to all your questions, such as, "How long does lip filler last," contact us at 301-396-3401 today! We want to be sure you get the most after dermal filler injections for lips.