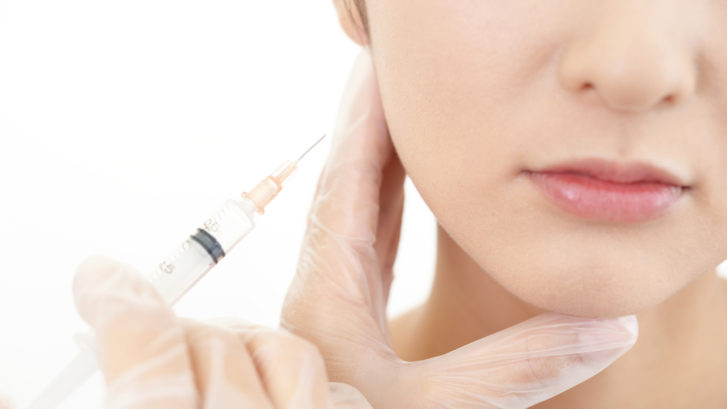 Are you interested in rejuvenating your skin or enhancing your facial features with dermal fillers? If you answered yes, you are not alone.
In fact, fillers are one of the fastest growing cosmetic treatment trends in aesthetic medicine, and for good reason.
These products are widely sought out for their ability to restore volume to sagging cheeks, correct wrinkles and folds, eliminate under eye circles, smooth lines around the lips, and naturally lift the face.
Plus, fillers provide natural and long-lasting results without surgery, anesthesia or downtime.
So, are cosmetic injections right for you?  Keep reading to learn everything you need to know about dermal filler injections in Southern Maryland.
What Are Dermal Fillers?
Dermal fillers are comprised of naturally-derived and synthetic substances that are injected into soft tissue for instant volumizing and hydrating effects.
They are commonly used to address a flattened or drooping facial appearance that is the result of diminished collagen and elastin and fat loss.
These cosmetic injectables can also redefine natural contours, improve symmetry, and define and/or augment the lips, jawline, nose, chin, and other parts of the face.
What Are the Categories of Dermal Fillers?
Many dermal fillers are comprised of hyaluronic acid, which is a substance that naturally occurs in the body and is found in the skin's dermis. It easily attracts and holds onto water, making it and excellent plumping agent.
On the other hand, synthetic fillers are engineered in the lab, and their composition includes non-resorbable polymethylmethacrylate (PMMA) microspheres (Bellafill), poly-L-lactic acid (Sculptra), and calcium hydroxyapatite spherules (Radiesse).
What Are the Different Types of Hyaluronic Acid Dermal Fillers, Their Placement, and Longevity?
Juvederm and Restylane are the leading hyaluronic acid dermal fillers. Their classic formulations can both be used to lift cheeks, plump lips, and smooth marionette lines for up to 1 year.
Additionally, Juvederm Ultra and Restylane can augment lips, while Juvederm Volbella and Restylane Silk are excellent for subtle lip contouring and diminishing vertical lines around the mouth for up to 1 year.
Finally, Juvederm Voluma XC  and Restylane Lyft are recommended to add volume to cheeks and lift the mid-face for up to 2 years.
What Are the Different Types of Synthetic Dermal Fillers, Their Placement, and Longevity?
Synthetic dermal fillers tend to provide longer-lasting correction and can be placed in a variety of volume-depleted areas.
More specifically, Bellafill can treat smile lines, acne scars, and nasolabial folds and results may last several years.
Furthermore, patients can see an improvement in marionette lines for up to 18 months with Radiesse. While Sculptra is often injected into marionette lines, the chin, depressed temples, and jowls to provide plumping for up to 24 months.
To learn more about dermal fillers and which one is right for you, please contact our office today to schedule a consultation.