---
Introducing Pocket Patient
Both new and established patients are now able to receive care via a virtual office visit using the PocketPatient application for a variety of skin-related concerns, including eczema, psoriasis, rashes, vitiligo, birthmarks, acne, and prescription refills.
How it Works:
Contact one of our three locations by phone to request a telehealth visit. The front desk staff will briefly discuss your concerns to determine if a telehealth visit is right for you. Please be aware that telehealth visits are generally not appropriate for concerns such as skin cancer or evaluation of moles.
There are two types of telehealth visits:
Teleheatlh visits feature live interactive patient communication via video chat. This is virtual visit using audio and video communications between provider and patient.
E-visits are done through the PocketPatient as well without live interaction. This option does give you the ability to send pictures but there is no live interaction with a provider.
The front desk staff will discuss which visit is best for you and will schedule accordingly.
When scheduling your appointment the office staff will activate your EMA Patient Portal. You will receive an email to activate and sign into your patient portal. From the patient portal you can look over your demographics (patient information) and update accordingly, add a pharmacy, and even add your current current medications. Please keep in mind that the email link to set up the patient portal expires in 72 hours.
Log in to the PocketPatient app by first entering  the practice URL: vergheseandlingmdpa.ema.md then enter your username and password you set up for your patient portal.
Telehealth Visits:
The day of your telehealth visit you will receive a phone call 10-20 minutes prior to the visit from one of our medical staff to go over any additional information needed for the virtual visit.
Once this step is completely, the provider will send you an email inviting you to join your telehealth visit. Please make sure and push your microphone button once you join the visit.
The office staff will prepare you for your visit by contacting you by telephone to chat to review your medical history and insurance information.

You may be asked to upload digital photographs via digital smartphone or email.

When a Medical Provider is ready for your visit, you will receive an email and a notification will display within the PocketPatient app. Your video chat will begin once you join the visit.

If you prefer, you can access your visit through the Patient Portal by navigating to https://vergheseandlingmdpa.ema.md/ema/Login.action and entering your Patient Portal username and password.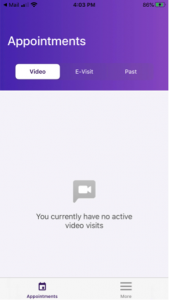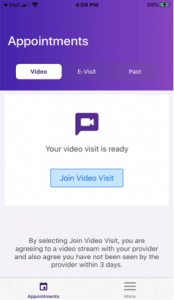 E-visits
1. The office staff will prepare you for your visit by contacting you by telephone chat to review your medical history and insurance information.
2. When you are ready to start your visit, you will toggle to the e-visit tab and select
3. Please select Dr. George Verghese, Dr. Rose Verghese, or Sarah Herdeman as the provider
4. Please select the most appropriate reason for your visit and answer the questions as prompted. You do not need to answer all of the questions but it is important to include information regarding your specific concerns.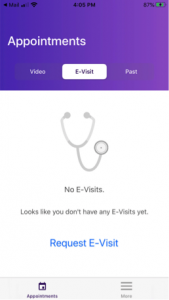 5. When you are ready to submit your case, click on the Submit button. The information that you provided will be forwarded to a Medical Provider for review.
6. Mid Atlantic Skin may need additional information or digital photographs, we will send a message to you through the PocketPatient app. You may wish to enable notifications in order to receive alerts.
Frequently Asked Questions
Does my insurance cover the cost of a virtual visit? While some insurances cover TeleHealth visits and/or e-visits, some do not. At this time, Mid Atlantic Skin is able to verify the specific coverage of each plan and by agreeing to the terms of services, you are acknowledging that you are financially responsible for any balances that may be due, including but not limited to co­insurance or co­payments, annual deductibles, and out­-of­-network charges.
How long will it take for my provider to reply to my case? TeleHealth visits are scheduled during office hours. We typically responds to requests for e-visits within 24 hours; if you do not receive a response within 24 hours please contact the office staff.  We are currently available Monday-Thursday from 8:00 am to 4:00 pm.
How do I submit a case for my child or other family member? Each person much have their own EMA Patient Portal account to log in to the PocketPatient app. Parents and caregivers of children (minors under 18) will have access to their child's account and will need to use the child's account to log in. All adults over the age of 18 will need to log in to their own account to submit a case.
How to Use Your Smartphone Camera to Take Photographs of Your Skin
Taking digital photographs of something on your skin can be challenging; in order for Medical Providers to provide the most accurate assessment, the photographs need to be in focus, they need to depict one or more fully representative areas of involvement or skin lesions, and they need to provide an accurate representation of the color of the skin without any shadows or irregular lighting. Here are some important tips to help you take high-quality images:
Ensure that the area being photographed is well-lit, ideally with natural sunlight, and that there are no shadows.

Place a piece of newsprint or other high-contrast paper next to the area being photographed to help the camera to auto-focus.

Ensure that the camera is positioned directly in front of the area being photographed as opposed to on an angle

Use a neutral background such as a dark-colored wall or towel behind the area being photographed to minimize distractions.

It can be hard to take photographs of your own skin; have someone else take the images, when possible.
[/vc_column_text][/vc_column][/vc_row]