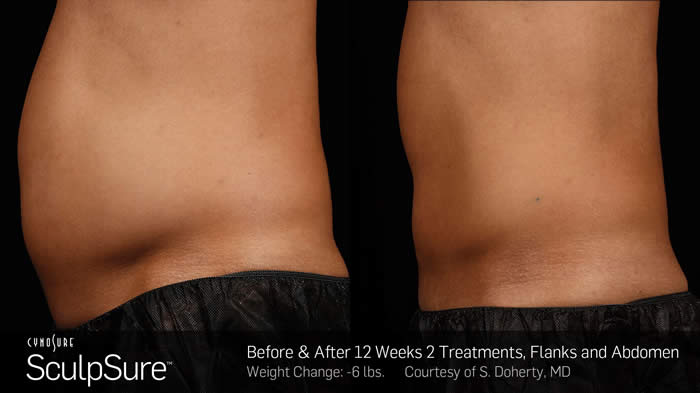 Mid-Atlantic Skin is proud to offer SculpSure, the revolutionary treatment that zaps fat in 25 minutes! Join our SculpSure Washington DC and Maryland patients who are already experiencing great results.
SculpSure is ready to zap your fat—and in just 25 minutes!
According to the company Cynosure, manufacturer of SculpSure, the revolutionary treatment is a breakthrough in light-based body contouring and is designed to reduce stubborn fat in problem areas such as the abdomen and love handles.
SculpSure is designed to help you achieve a slimmer and natural looking appearance without surgery or downtime.
With minimal absorption in the dermis, SculpSure can efficiently treat areas of troublesome fat in just 25 minutes, which is ideal for many people looking for a quick treatment that delivers actual results.
Over time, the body naturally eliminates the disrupted fat cells and results can be seen as quickly as six weeks—though optimal results are usually seen in about 12 weeks.
"Non-invasive fat reduction methods offer a reliable alternative to traditional liposuction, with excellent and safe outcomes," said Dr Tatiana Lapa (per The Express UK).
The FDA-approved SculpSure procedure promises no recovery time following your treatment, so you can resume your daily activities immediately.
"Body sculpting using non-invasive fat reduction and skin tightening is growing in popularity. People are realizing that non-surgical treatments offer a lower-cost and safer alternative with a shorter recovery time," said Dr. Lapa.
SculpSure's innovative technology destroys fat cells by raising the temperature of body fat in problem areas and can deliver up to 24 percent reduction in persistent fat.
SculpSure is a comfortable and well-tolerated treatment, helping the procedure boast an over 90 percent patient satisfaction rate.
With quick treatment times and proven results, it's no surprise that SculpSure is quickly becoming the go-to body-contouring procedure.
If you're considering a new weight loss treatment, consult with the experts at Mid Atlantic Skin to determine the best course of action.
Please call us at (301) 396-3401 or fill out the form below to schedule a complimentary consultation today!