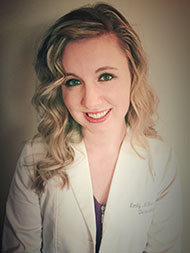 Emily M. Miller, MS, PA-C
About Emily M. Miller, MS, PA-C
Emily Miller is originally from Alexandria, Virginia.
She is a graduate of the University of Virginia, where she earned her bachelor's degree in Psychology, and Philadelphia University, where she obtained her master's degree in Physician Assistant Studies.
Emily is fluent in Spanish, and has traveled to Honduras twice with Global Medical and Dental Brigades.
She is also a member of the Society of Dermatology Physician Assistants.