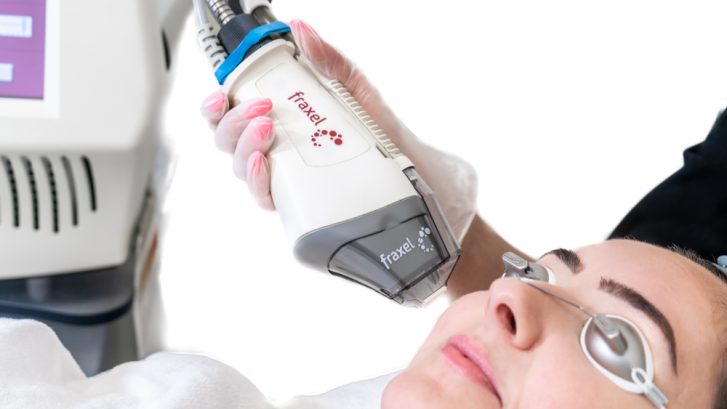 "Skin tightening near me" has quickly been ranked as a top search engine term for the thousands of men and women looking to improve their appearance.
As we age, our skin begins to show more and more signs of aging including wrinkles and age spots that even the most expensive skincare may not be able to reverse on its own.
However, many of these patients are not interested in the money and downtime associated with surgical options such as a facelift.
That is why Fraxel is quickly becoming one of the most requested in-office treatments to reverse the signs of aging.
What Is Fraxel?
Fraxel uses a CO2 laser technology to stimulate collagen in the skin.
This incredible treatment can help to smoothest signs of aging in the skin which includes:
Wrinkles
Fine Lines
Pigmentation issues
Sun spots
Age spots
Scars
Who Is a Good Candidate for Fraxel?
The ideal Fraxel patient is interested in achieving gorgeous anti-aging results without having to go under the knife.
Patients are not eligible to receive this treatment if they have a serious medical condition, if they smoke, or if they have unrealistic expectations.
Is Fraxel Safe?
Fraxel has been cleared as a clinically proven and safe product for treating the visible signs of aging.
How Can I Enhance My Fraxel Results?
The best way to enhance your results from your Fraxel treatments is to maintain a dedicated skincare regimen.
For best results, many doctors will recommend returning for follow up treatments in order to increase the longevity of your results.
Fraxel Skin Tightening Near Me
At Mid Atlantic Skin Surgery Institute, we are proud to offer the latest advancements in skin technology including Fraxel laser resurfacing.
To learn more about Fraxel including how to prepare for your treatment, visit our website today.
If you would like to schedule a consultation for Fraxel, call us today to speak with a member of our team at (301)396-3401.