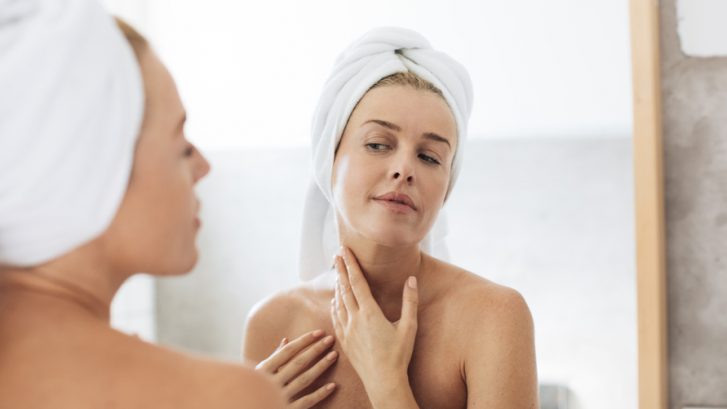 A crepey neck is a sign of aging. It makes your face less defined, and it's just plain annoying. Serums, creams, and traditional spa treatments never work.
What Are the Best Crepey Neck Treatments in Waldorf, Maryland? 
If you're ready to get rid of your crepey neck, it's time to try something that provides you with actual results. So, what are the best crepey neck treatments in Waldorf, Maryland? 
Fraxel Treats Deep Lines on Delicate Skin 
Fraxel uses a cutting-edge laser to resurface the skin of your neck. This allows deep dermal penetration in order to diminish deep lines, crepey lines, sagging skin, rough texture, and discoloration. It tightens and smooths your neck, resulting in a refreshed, younger-looking neck.
It only takes about a week to recover from Fraxel completely. You may notice some swelling and throbbing, sort of like a sunburn, for a few days before your skin starts to roughen up and heal. After that, your skin starts to peel, revealing a more youthful neck.
Try Morpheus8 to Stimulate Collagen  
Morphues8 uses radiofrequency microneedling to stimulate collagen production in your necks. Crepey skin can often be attributed to a loss of volume in collagen. Morpheus8 stimulates collagen production and helps fill your neck. This smooths out pesky lines and wrinkles, as well as tightens your skin.
You don't need to worry about downtime with this revolutionary anti-aging technique, either! Most people return to their daily activities right after getting Morpheus8.
However, you may experience a red and shiny neck for a couple days after your treatment, but this goes away on its own without any further treatment.
Get the Best Crepey Neck Treatments in Waldorf, Maryland at Mid-Atlantic Skin Surgery Institute 
If you're looking for the best crepey neck treatments in Waldorf, Maryland, then look no further than Mid-Atlantic Skin Surgery Institute.
Let our providers give you a customized consultation to see if Fraxel or Morpheus8 are right for you.
Call us today at 301-396-3401 to schedule an appointment, and be sure to ask about financing through CareCredit to make rejuvenation more affordable!