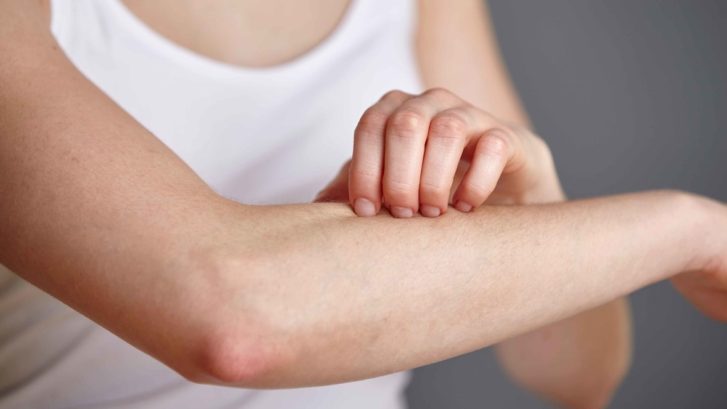 According to a recent study, skin disease is plaguing Americans more than previously suspected.
The data that was gathered for the skin disease report, which was published in the Journal of the American Academy of Dermatology, found that one in four Americans were treated for some type of skin disease in the year 2013.
The study also found that an incredible 50 percent of Americans over the age of 65 have up to two skin diseases.
The release of this study and stunning information has led to the announcement of a brand new campaign by the American Academy of Dermatology called SkinSerious which will help to raise awareness of impact of skin disease and highlight collaboration with other care providers.
"The impact of skin disease in this country is staggering, affecting one in every four Americans each year and taking a toll on lives, livelihood and our economy," said Henry W. Lim, MD, FAAD, incoming president of the AAD and chair of its Burden of Skin Disease Work Group.
Skin Disease Facts from the AAD
Skin disease is serious and can be deadly.

Of the 24 skin disease categories analyzed in the study, half are associated with mortality.
Nonmelanoma skin cancer and melanoma accounted for 60 percent of skin disease-related deaths.

Prevalence of skin disease is high and is likely to increase as the population ages.

The number of individuals with skin disease across the U.S. population in 2013 exceeds those with cardiovascular disease, diabetes or end-stage renal disease.
One in four Americans (26 percent) reported receiving treatment for at least one skin disease in 2013.
Nearly 50 percent of Americans over age 65 have skin disease, with an average of 2.2 skin diseases each.

Skin disease burdens Americans, their families and employers.

Patients and caregivers with skin disease suffered $11 billion in lost productivity. (This does not include additional time for at-home care and treatment, which was not evaluated.)
$75 billion was spent on skin disease in 2013. The majority of this was for treatment costs, including $46 billion for health care provider costs from medical care.
"In a 21st century health care system, it's more important than ever that dermatologists work with colleagues across the house of medicine," said Karen E. Edison, MD, FAAD, chair of the AAD's Access to Dermatology Committee and the SkinSerious Campaign Work Group.
The SkinSerious announcement also includes a website which will share patient stories and provide facts about the serious impact of dermatological skin condition.
"SkinSerious will highlight the ways dermatology and other medical specialties work together, while sharing best practices for ensuring patients and physicians can access dermatologic expertise when they need it."
Do you have a skin condition that you want a Board-Certified Dermatologist to check out? Schedule an appointment with one of our medical professionals at Mid-Atlantic Skin at one of our three convenient locations in Waldorf, Leonardtown or California, MD.