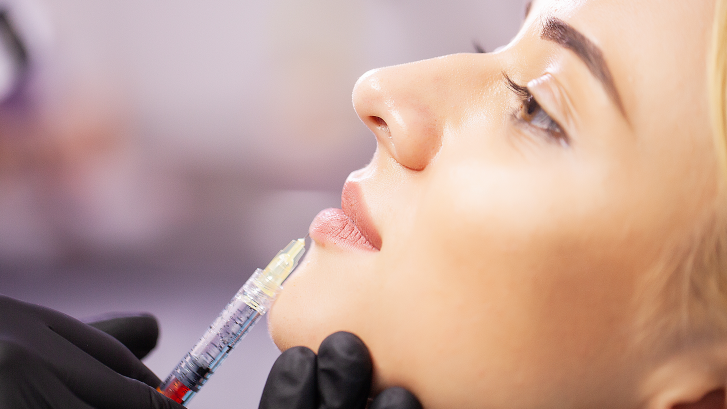 Not all dermal fillers are created equal! Each brand of filler, from Juvéderm to Restylane, is formulated differently. Each dermal filler is capable of achieving unique, personalized results for each patient. The best lip filler injector in Lexington Park, Maryland spills the secrets to help you determine which filler is right for you!
Which Dermal Filler Brands Offer Lip Fillers?
It tends to surprise people when they learn that there are actually many different brands and formulas when it comes to dermal fillers. The most popular types of dermal fillers are made with a synthetic form of hyaluronic acid (HA).
Currently, Juvéderm is the most popular HA-based filler in the United States. The filler offers five unique dermal fillers in their line. Juvéderm is most commonly used for the lips.
Restylane, however, is impressive in its own right. With seven HA-based fillers in their lineup, and even some developed with their patented XpresHAn Technology, Restylane is another plumping powerhouse for use on the lips. Most aesthetic injectors offer both Restylane and Juvéderm.
How Does Each Lip Filler Differ?
If Restylane and Juvéderm are both made with hyaluronic acid, then what's the difference? Why do aesthetic injectors use both of these brands, not just one of them? Their subtle, and sometimes not-so-subtle, differences are why injectors prefer to keep both in their dermal filler toolkit.
Juvéderm offers two dermal fillers suitable and approved for use on the lips. These two fillers are Volbella XC and Ultra XC. Ultra XC is primarily used to add volume to the lips, whereas Volbella XC is used to address lip lines.
Both of these Juvéderm fillers yield long-lasting results for up to a year with optimal treatment. Neither requires downtime, and treatment sessions typically take 15 to 60 minutes for both options.
Restylane offers three fillers for use on or around the mouth. These fillers include Restylane, Restylane Kysse, and Restylane Silk. Their standard Restylane filler is considered a multi-use filler and can be used for lip enhancement that lasts several months.
Restylane Kysse is their lip filler crafted with XpresHAn Technology. The filler offers natural-looking volume and flexible movement that can last up to a year with optimal treatment. It can also enhance the color and texture of your lips.
Finally, Restylane Silk is another lip filler to help you achieve your ideal pout, yielding natural augmentation and treatment of lip lines. Results last up to 10 months on average.
Restylane fillers also take only 15 to 60 minutes for treatment and require no downtime.
Which Is the Best Lip Filler?
The fact of the matter is that there's no true winner when it comes to lip fillers because it depends on your aesthetic goals as well as your features. Additionally, some have restrictions such as Restylane's flagship filler of the same name, which is only approved for use on the lips of patients 21 years and older.
If you're not sure which brand of lip filler would benefit you the most, consult with a certified aesthetic injector for expert guidance on which lip filler is right for you depending on your filler history, age, and other factors your injector will consider.
Meet With the Best Lip Filler Injector in Lexington Park, Maryland Today to Learn Which Lip Filler Is Right for You!
Mid-Atlantic Skin Surgery Institute is here to help you achieve your goals with our arsenal of dermal fillers, neuromodulators, and more! We offer Juvéderm and Restylane, personalizing treatment to each of our patients for the best results imaginable.

To book a consultation with the best lip filler injector in Lexington Park, Maryland, call us today at 301-396-3401! Be sure to ask about affordable payment plans to pay over time!