Thread Lift Specialist Maryland| Safe, No Downtime, and Effective
Cosmetic medical techniques have advanced greatly in recent years.
Many aspects of facial aging can be addressed with safe and effective procedure that offer little downtime and natural-looking results.
The Silhouette Instalift is an effective and minimally invasive way to lift mid-facial skin.
Thread Lift Basics
Several years ago, the classic "face lift" generated a great deal of popularity in Maryland, but patients in Southern Maryland were never quite satisfied with the downtime required to recover from the procedure.
Ultimately, clients want safe, easy and comfortable options that aren't linked to all sorts of complications.
Thread Lift Basics
Thread Lift is accomplished by using several tiny absorbable structures to lift and support the loose skin that hangs around the brow, cheek, jowls and upper neck– without removing any skin with a surgical procedure.
Different sutures and lengths will be used depending upon the area or area(s) you need lifted. All sutures are FDA-approved and are used in all medical procedures requiring permanent or non-permanent sutures.
This new technology is the only minimally-invasive treatment in Maryland that will physically lift facial tissue without a surgery.
This new technology is includes fully resorbable suspension sutures with bidirectional cones–which are inserted under the skin to gather tissue to fill out and lift the cheeks and any facial sagging skin. No large incisions are performed or stitches are required, and no scars are produced.
The non-surgical face lift in Maryland is done by inserting under the skin in precise locations our thread lift technology. The inserted threads are then able to grasp onto the loose skin and soft tissue, decreasing the skins laxity.
Example of Cheek/Jowl Lift
Non surgical face lift technology emerged because many people—perhaps you—would like a face lift, but can't afford it or don't want the long recovery time of the standard face lift.
It is perhaps better considered as a lesser, or preliminary procedure. Non-surgical face lift procedures cost less and require less downtime for many clients.
The hottest new technology in Maryland is, the Silhouette InstaLift™, and across the country physicians are saying it's safer and far more effective than general dermal filling for treating the aging face.
The Face Ages in 5 Ways:
Skin Ages (Wrinkles, Dark spots and Healthy Color)
Loss of Fat (Around eyes, Nose, and Mouth)
Loss of Volume (Cheeks, Temples, and Face)
Loss of Bone (Cheeks, Jaws, etc.)
The Pull of Gravity (Causes Sagging Skin)
Lasers and many of our energy-based treatments can improve skin tone and elasticity. Soft tissue dermal fillers can replace volume and Botox can delete wrinkles.
But until the Instalift, there had not been a surgery-free way to effectively lift facial tissue and fight aging.
The Silhouette Instalift procedure in Maryland involves inserting a tiny thread with dissolvable cones deep under the skin to lift the cheeks, a sagging brow or even neck skin or jowls around the mouth.
As this technology has biocompatible stitches that dissolve– they create new scar tissue, which serves as a natural lift for sagging facial issues.
New Face Lift Technology: Silhouette InstaLift™
Silhouette InstaLift sutures are made of dissolvable glycolide/L-lactide (PLGA) strands. Each strand line holds two sets of cones made of PLGA. As the sutures and cones slowly dissolve, the PLGA will stimulate ones own natural collagen production deep in the facial tissues.
This process of regenerating your own collagen is an important component to this new technology. The result is improved volume, contouring and facial definition.
The Silhouette InstaLift thread technologies are passed into the area to be treated and rejuvenated with a special needle. This needle is placed deep below the skin.
After the tissue is lifted to the desired height, the cones are engaged and fixated to provide pull or suspension. Instalift technology provides a more robust lifting effect than filler due to the strength of the sutures combined with the collagen boost.
The procedure takes about 30-45 minutes and is performed with local anesthesia to prevent any discomfort. There is practically no downtime and the side effects are minimal. The lifting effect is immediate, with continued improvement occurring over time, as the PLGA begins to stimulate new natural collagen production.
The InstaLift isn't permanent, but it may last up to two years. For clients looking for some additional facial restoration, you'll be happy to know that it can be done in combination with Botox and fillers–for a more comprehensive facial result.
Before & After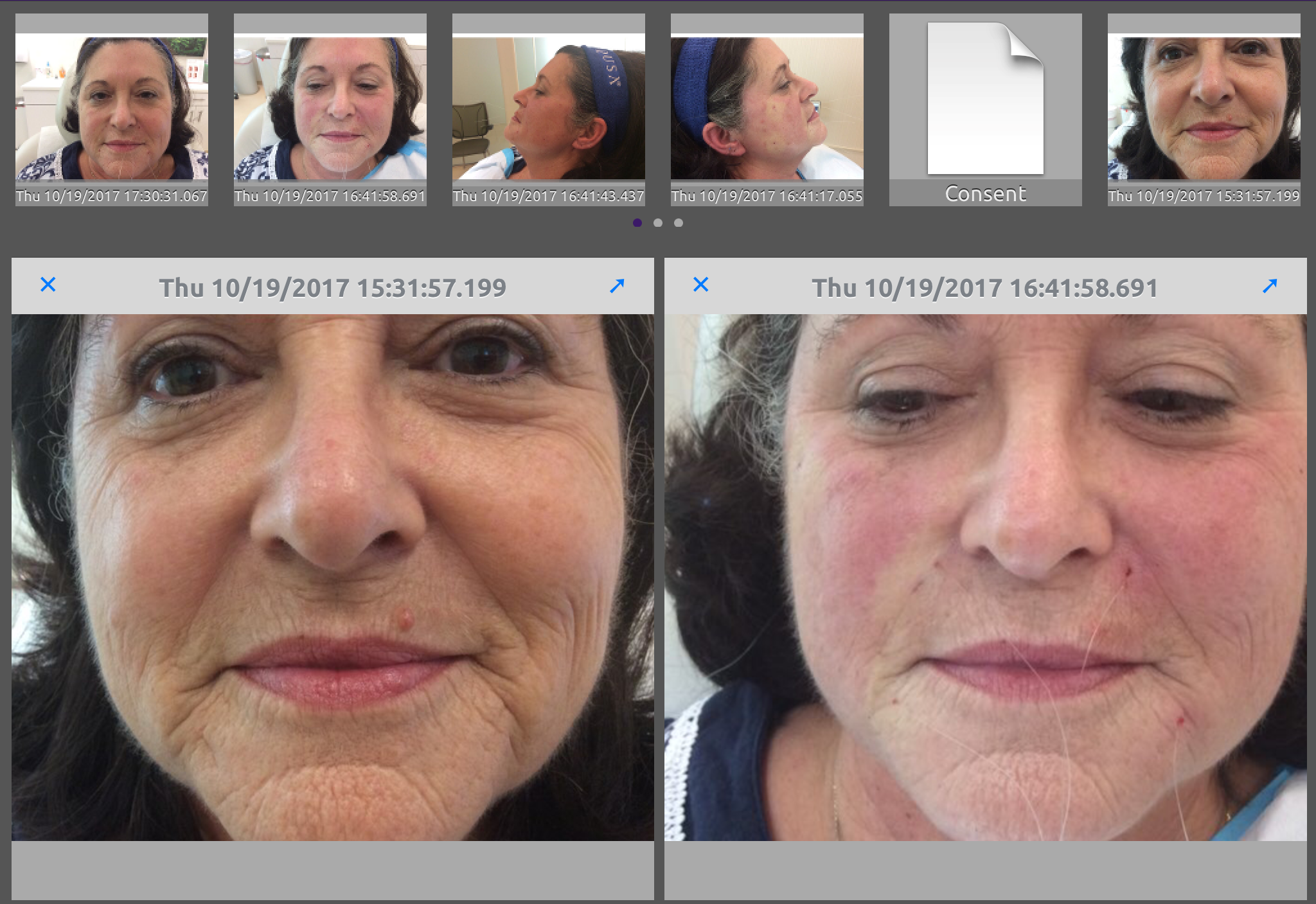 Join our satisfied existing Maryland Silhouette InstaLift patients and schedule your appointment at Mid-Atlantic Skin today!